---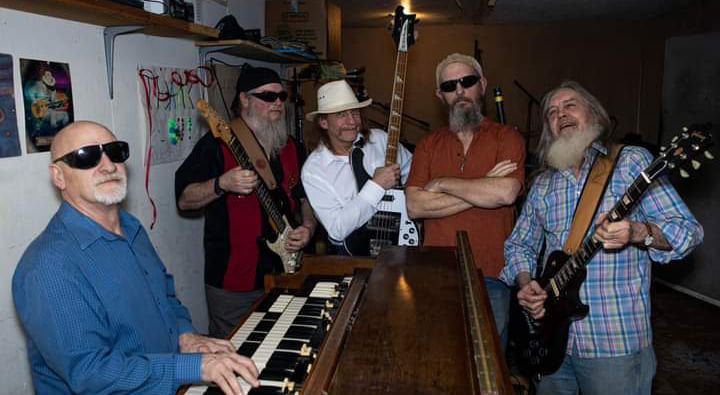 Ze waren de OG-wegstrijders van de bluesscene rond Wichita Falls, Texas, vijf jongens die elk een halve eeuw touren en spelen achter de rug hadden, die allemaal af en toe hadden samengewerkt in verschillende combinaties die teruggingen tot 1985. Tot Covid sloeg toe. Werk droogde op. Joe Splawn, een Hammond B3-speler met 57 jaar podiumtijd, belde de andere vier.
Er was verder niets aan de hand, maar wilden de anderen wel samenkomen en een album maken? Dat deden ze, en elk van de vier songwriters van de jonge band bracht hun beste materiaal mee. Het resultaat is 'Rough Around the Edges', een keiharde bluesrocker in de Texas-traditie van ZZ Top, met een beetje Frank Zappa en B.B. King erbij.
Elk van de bandleden heeft opmerkelijke dingen bereikt in hun lange carrière; Het eerdere project van Splawn, The Turner Blues Band, vertegenwoordigde hun regio drie keer op de International Blues Challenge. De bandleden werkten onder meer samen met Scott Ellison, werkten met leden van ZZ Top's vaste openingsact Point Blank en toerden met ELO. Al die ervaring komt volledig tot uiting op 'Rough Around the Edges', een wandeling van 15 nummers door het ruige, gruizige landschap van de Texaanse blues. De nummers tonen de verfijning van de decennialange songwriting van de leden; ieder is trouw aan de Texaanse bluestraditie, terwijl het origineel en fris is gemaakt met pakkende deuntjes.
Tracklist:
1. This Time 4:50
2. Victim Of The Blues 5:01
3. Texas Drought 3:47
4. Big As A Bus 5:52
5. Low Down Dirty Side Of The Blues 4:36
6. Heart Broke, No Good, Nasty Loving Woman 4:08
7. All You Have Left Is The Blues 4:20
8. Not In The Groove 5:16
9. Crazy About That Woman 4:32
10. Texas Sky 6:47
11. Gold Digger 4:34
12. I Pity The Fool 5:41
13. Fine And Nasty 4:37
14. Humpty Dumpty Blues 4:25
15. Toppish Groove 5:57
---